Skip to Content
Easy & Smart – What's the Best Short-Term Loan?
The differences between many short-term loans can get muddied, especially online when it seems that every article is trying to tell you that whatever it is they offer is the 'best short-term loan for you'.
So, instead of convincing you with overly-specific scenarios that require one specific answer or telling the many great things about a specific loan (and leaving out all the bad) let's just look at a general need for cash, the numbers, the facts, and get to the bottom of what the true, best short-term loan is.
Whether you need money for medical bills, unexpected emergencies, or other pressing bills, you only have a little time to get the most cash, while doing the least damage to your credit and your bank account's future. So, what is the best short-term loan for a scenario as simple as this?
Let's look at the chart: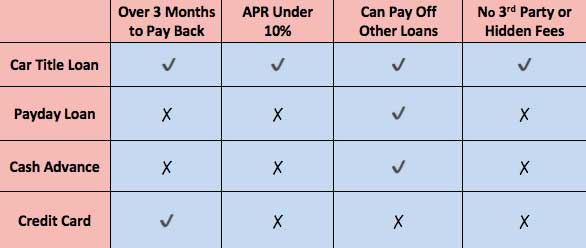 Car Title Loan from VIP Title Loans
As you can see, a car title loan from VIP Title Loans doesn't have to be as 'short-term' as many of the others, which makes sense, since most financial emergencies take longer than 30 or even 60 days to recover from. With VIP Title Loans, your loan term can be up to 12 months, to give you as much time as needed to help you get out of that hole.
Additionally, VIP Title Loans never gouges with high APR, instead, our loans are all set to the low APR of 6%, meaning you are paying your principle down with every payment – even just the minimum.
With a car title loan, you can use the money for anything, including paying off higher-interest loans like credit card debt, or even for a title loan buyout from a previous title loan of another company. And our title loans will never affect your credit, in fact, by using our title loans to pay off a higher-interest loan, you can actually improve your credit!
And, of course, VIP Title Loans never has hidden or 3rd party fees, that's why we can say our 'APR is 6%', not just 'our interest rates are 6%', as APR includes all fees required for payments.
Payday Loans
Unfortunately, not all payday loans are the saviors they pretend to be, in fact, many are incredibly predatory – meaning they try to seek out the desperate, offering them money, just to sink them deeper and deeper into a cycle of debt. This is due to many reasons, including:
You have to pay back your payday loan in anywhere from 8-35 days, which hardly gives you time to regain your funds
Their APR (or interest rates plus all applicable fees) can be anywhere from 360%-780%!
There are often additional fees which are not fully disclosed, so even if their 'interest seems low' beware of the extra fees, 3rd party fees, or hidden fees they don't make clear
Cash Advance
Cash advances used to be thought of as the 'better payday loan' but when we look at the chart, we see they have the same check, and the same x's. So, even if their interest is lower than a payday loan, or their payback period is longer, it still isn't under 10% or over 3 months – so how much better can it be?



As the above chart from Finder.com shows, cash advances often have much lower interest rates and APRs than payday loans (24% vs 400%) but it's still 4 times that of VIP Title Loans's title loans of only 6% (and that's without adding in additional cash advance fees).
Additionally, cash advances are from your credit card, which means they can affect your credit score negatively if you do not or cannot pay it back in the designated time, something that could follow you for many years to come and make future financial choices much harder.
Credit Cards
This leads us to our final row from or chart – the dreaded credit card.
Yes, credit cards can be wonderful things when used in moderation for points, rewards, or to simply remove cash from your life, but only if you can fully pay it off each and every month. Because, once again, it has many downsides such as negatively affecting your credit score, high APRs (even if they aren't triple digits, they are still always higher than 10%).
Additionally, you cannot use a credit card to pay off other loans, such as your car loan, student loans, mortgage, etc, and there can still be annual, monthly, or hidden fees.
The Choice is Clear, the Best Short-Term Loan for You is a VIP Title Loans Title Loan or Title Loan Buyout
Though we prefer you are always financially stable and never need any kind of short-term loan, we understand that life comes up. But instead of trying to keep you in debt, VIP Title Loans will do everything in our power to help you break that cycle.
We hope we are the last short-term loan you ever need.
Contact us today to learn more, or fill out our form online for faster service, then, simply stop by one of our convenient locations with your vehicle and we will get you the cash you need, and make sure the terms are clear, and the APR is low.