Skip to Content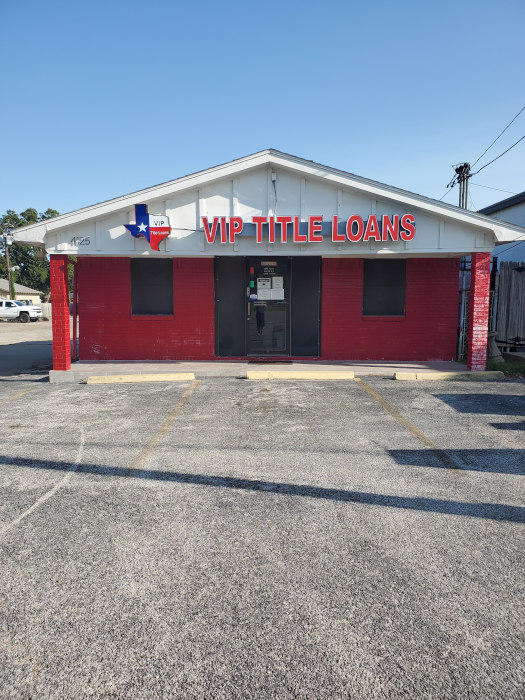 Why People Use Title Loans or Companies That Pay Off Title Loans?
Have existing title loans? Looking for companies that pay off title loans? We can help! We can take existing title loans and roll them into your new loan to consolidate your debt. Companies that pay off title loans like ours help get you back on track.
Are you trying to pay off other bills or expensive medical debts? Our car title loans will help establish a lifeline for you that will help you stay financially afloat. Stop by one of our locations in Colleyville, Bedford, Euless, Hurst, and more for fast, easy service.
Remember, if we can't save you money, we don't deserve your business!
VIP Title Loans
Are you looking for car title loans in the Mid Cities area near Colleyville, Texas? If so, VIP Title Loans is the place to go. Our locations near Bedford, Euless, and Hurst, TX offer ways to secure title loans to help your finances. Have you been burned by other title loan companies in the past? We can help you breathe life back into your wallet again with our title loan buyouts!
4125 Colleyville Blvd, Colleyville, TX 76034
682-325-4202
Email the Colleyville Location
VIP Finance of Texas, Colleyville Boulevard, Colleyville, TX, USA
About VIP Title Loans & Title Loan Help
To us, companies that help you pay off title loans like ours are here to always help, no matter what. What helps us stand out against the competition is:
No Confusing, Hidden Terms
At VIP Title Loans, we won't loop you into recurring contracts like our competitors. We offer up to one-year terms without refinancing your loan, which leaves you in a loop of higher interest and ultimately higher payments. Our terms are fair and direct. We won't continue to rehash your debt over and over if it cannot be paid within a month like our competition. Your one-year term option with VIP Title Loans allows you to pay back the loan at an easier pace.
Low APR (Annual Percentage Rate)
VIP Title Loans of Texas boasts one of the lowest APRs of any title loan company: 6%! With other companies, you'll not only be stuck in a repayment loop, but their annual percentage rates climb to as high as 300%. We are the clear distinction between a large corporation and a locally owned business.
Colleyville Title Loans
At VIP Title Loans, we'll help you establish everything you'll need to start applying for a new loan or roll an existing title loan over. Companies that help pay off title loans like VIP Title Loans are available to alleviate the stress of unpaid debt. While our competitors are governed by out-of-state legislation, we're able to adhere to the laws of our home state of Texas. This allows us to have the most lenient grace periods of any title loan company around. With these advantages and more, you can rest assured that VIP Title Loans has got you covered.
Get Your Money With a Texas Title Loan Today!
We're here to work with you at one of our many Mid Cities Locations! Whether you're near Bedford, Euless, Colleyville or Hurst, TX, our locally owned locations will help you get back on your feet today. Feel free to send us an email or stop by. We've helped thousands of others and can help you too!
Get a Texas Title Loan for Less