Skip to Content
10 Ways to Decorate a College Dorm on a Budget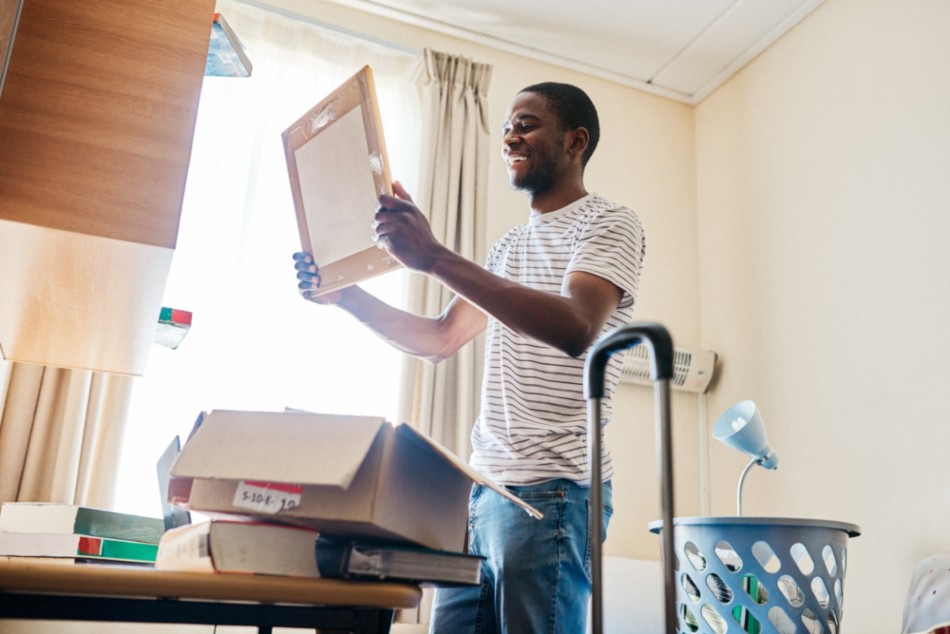 Moving away from home and living in a dorm for the first time is an eye-opening experience for most first-year college students. It's your responsibility to pay for everything, from food and clothing to dorm room furniture and decor. As you prepare to head off to college, use this guide to help you decorate your dorm room on a budget.
Decorate with photos: Nothing makes a dorm feel like home more than hanging up pictures of family and friends from back home. Print out your favorite snapshots and mount them to the wall using string, clothespins, and pushpins. If you're not allowed to poke holes in the wall, try adhesive hooks.
Use posters as wall art: Find free posters inside magazines or purchase inexpensive ones from an arts and crafts store. You're sure to find posters that depict your favorite actors or musicians, beautiful landscape photographs, or catchy phrases.
Hang a wall-mounted jewelry holder: Rather than tucking your artsy necklaces, earrings, and bracelets into a jewelry box, display them proudly on a wall-mounted holder. This gives you easy access to your accessories and doubles as decor.
Buy decorative storage bins: Look for inexpensive fabric bins to store your stuff. This keeps your dorm tidy and adds to the decorative feel without breaking the bank.
Consider your lighting options: Your desk lamp is fine, but it does little to improve the ambiance. Try hanging holiday lights around your closet door, draping string lights across the ceiling, or setting battery-operated tealights on your desk.
Add throw rugs and pillows: Dorm rooms typically have hard floors or commercial carpeting. To make it cozier, add an inexpensive throw rug and matching pillows for your bed.
Discover the magic of washi tape: Decorate picture frames, storage bins, lamps, mirrors, and just about anything else with washi tape. It comes in every color and pattern imaginable, and it doesn't leave behind residue when you peel it off.
Buy used decor: You can save a ton on dorm room decorations if you're willing to buy second-hand. Scour your local thrift stores, garage sales, and antique shops, or take to the internet to strike great deals on used dorm room decorations, furniture, electronics, and more.
Split the costs with your roommate: See if your roommate is willing to share the expense of furnishing your dorm room. For instance, one of you might buy a floor lamp and mini-fridge while the other picks up the tab for a rug and throw pillows.
Fund your college dorm shopping spree with a title loan: If you don't have the money to deck out your dorm the way you want, consider borrowing from VIP Title Loans. We're a licensed credit service organization with six convenient North Texas locations. Our low-interest title loans and flexible repayment terms make us one of the most affordable options in lending.
Call us at 214-819-9491 or 682-325-4202, or contact us online to learn more about title loans.