Skip to Content
10 Things to Bring When Buying a Car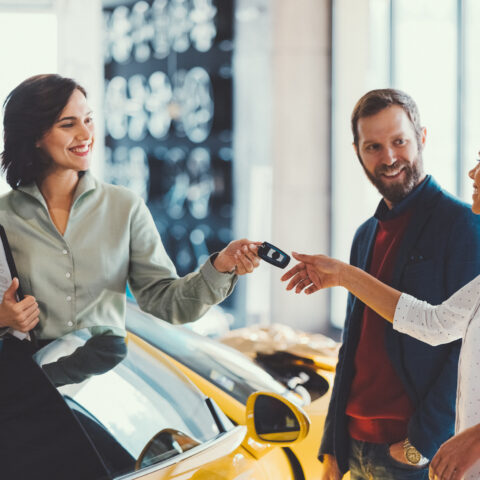 Are you buying a new car? How exciting! To avoid any roadblocks during the transaction, be sure to arrive prepared. Here's what to bring to the dealership if you hope to drive off the lot in your dream car.
Your driver's license: You'll need to present your driver's license before test driving any cars. Make sure it's valid and hasn't expired before heading to the dealership.
Proof of auto insurance: Insurance is required to drive a car in most states, including Texas, so bring an insurance card that lists your current vehicle to prove you're covered. Be prepared to add the new vehicle to your policy once you finalize the purchase.
Preferred payment method: Speed up the car-buying process by getting pre-approved for an auto loan before buying a car. You can also finance through the dealership if you prefer. If you plan to make a down payment, have cash, a credit card, or a checkbook with you as well.
Promotional information: If the dealership or manufacturer is offering a deal on the car you want, bring that information to ensure you get the discount you expect.
Credit report: The dealer will run a credit check before offering financing options, but it's also wise to check your credit score in advance and bring a copy of your report with you.
List of references: Don't have good credit? You may need to supply a list of references when applying for an auto loan. Include current and former bosses, managers, landlords, and other credible people who can vouch for you.
Proof of income: You may need to show the dealer that you're employed and can afford a car payment, so bring recent pay stubs or bank statements.
Mail with your updated address: If you have moved since you last renewed your driver's license, you'll need a different way to prove where you live. One option is to bring official pieces of mail, such as utility bills or your car registration card, with your updated address on it.
Documents to prove rebate eligibility: Military members, veterans, students, recent graduates, and seniors may qualify for rebates when buying a car. To take advantage of these, you must provide paperwork proving your eligibility.
Documents for trading in a vehicle: If you trade in your old car when buying a new one, bring the title (if you own the vehicle outright), loan information (if you're still paying off the car), and your current registration card.
Owning a car gives you newfound freedom. Once you pay it off, you can even use your car as collateral to take out a title loan with VIP Title Loans. We offer the best title loan interest rates in Texas, getting you the cash you need with flexible, affordable repayment plans that fit your budget. To learn more, please call us at 817-265-2274, fill out our online contact form, or visit one of our five locations in the DFW Metroplex.