Skip to Content
How to Repair Scratches on a Car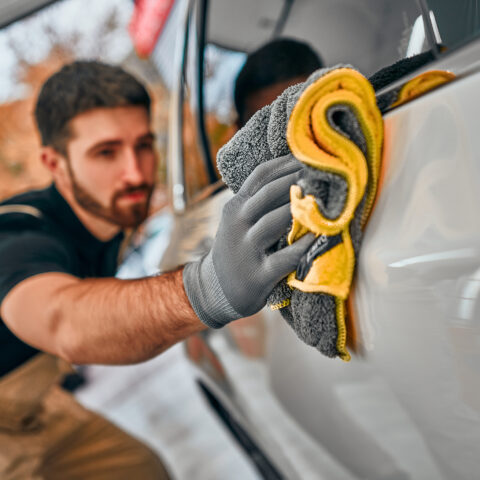 It seems like no matter how carefully you drive, dents, dings, and scratches find their way onto your car. It's frustrating to see a big, ugly gouge caused by someone else's mistake. Fortunately, you don't have to resign yourself to driving around in a scratched-up car. Here's how to repair the damage yourself rather than paying top dollar at an auto body shop.
Use a Scratch Repair Kit
If the scratch is shallow or moderately deep, a standard scratch repair kit should be all you need. You can find this convenient solution at most auto supply stores. Here's how to use it:
Clean the scratch and surrounding area with regular soap and water. This removes dirt, dust, and other debris, preparing the surface for you to work.
Apply a quarter-sized glob of scratch remover to a buffing pad or microfiber cloth. Avoid applying the paste directly to the scratch, which could damage the paint.
Work the paste into the scratched area with your buffing pad or microfiber cloth. This removes a thin layer of the clear coat so the scratched surface becomes smooth and flat. It may take several minutes to see results, so keep scrubbing.
Wipe excess polish away. If you can still see the scratch, repeat these steps once or twice more until the scratch is nearly impossible to see.
Use Glazing Putty & Touch-Up Paint
You may need a different technique for deeper gouges. Here's how to use glazing putty and touch-up paint to repair deep scratches on a car:
Clean the scratched area with rubbing alcohol to remove residual wax and dirt. Use a microfiber cloth to avoid damaging the paint.
Apply the glazing putty. Use a spreader tool to fill the scratch completely with putty. Then, give it two to three minutes to cure.
Remove excess putty using liquid paint leveler and a microfiber cloth. Gently rub the area around the scratch until all excess putty is gone.
Paint over the filled-in scratch using touch-up paint in your car's exact color. Apply the paint with a fine-bristled micro brush for the best results. If your touch-up kit didn't come with one, check an auto supply store for the product you need. Allow the paint to dry for eight to 12 hours.
Apply polish to a polishing pad or microfiber cloth. Rub in a circular motion over the newly repaired area. Continue polishing until all the polish is removed.
Repairing scratches is a great way to boost your car's value before applying for a title loan. It's a smart move because the more your car is worth, the larger loan you can potentially qualify for.
VIP Title Loans is the right lender for you! We have the best title loan interest rates in Texas, with flexible repayment terms to help you succeed. For more information, please call us at 817-265-2274, fill out our online contact form, or visit one of our five locations in the DFW Metroplex.