Skip to Content
How to Clean Your Car's Interior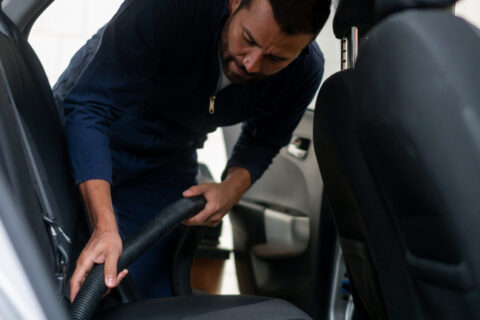 Isn't it amazing how quickly car interiors get filthy? Especially if you have kids or pets, the inside of your car can get sticky, crumby, and all-around gross, seemingly in the blink of an eye. You might not even notice how bad it's gotten, until you unexpectedly need to give someone a ride and are struck with embarrassment when you have to clear out, brush off, or wipe down the passenger seat before the person can even get in. Here, we offer a step-by-step guide to cleaning your car's interior that will have it looking like new in no time.
First, gather the supplies you'll need to do the job well. Some household cleaners may be too harsh for use on the car's interior surfaces, so consider buying products made especially for automobiles. To thoroughly clean your car, we recommend you have disinfecting wipes, ammonia-free window cleaner, leather cleaner or upholstery cleaner, and carpet cleaner. You will also need a microfiber cloth, a vacuum with attachments, a sponge, a scrub brush, a bucket, a duster, a tool for cleaning crevices, and a spray bottle.
Begin with the floor mats. You will need to remove any trash you may have in the car, then take out your floor mats and clean them. Do this early, washing them with water and cleaner, and they'll have time to dry while you clean the rest of the car. Before you clean them, shake them outside and then run a vacuum over them to remove embedded dirt. Clean carpeted mats with carpet or upholstery cleaner, and if your mats aren't carpeted, use a hose or a bucket of soapy water and a scrub brush.
Vacuum the inside of the car. Make the most of your attachments, taking care to vacuum hard-to-reach spaces like your cupholders and the area where the dashboard meets the windshield. Remember to vacuum your seats, including the crevices, and under your pedals. If you find that stubborn pet hair remains after you vacuum, use a rubber glove to wipe it away- it works like magic!
Clean the dashboard. Start by using a duster or microfiber cloth, but then use disinfecting wipes rid your dashboard of bacteria and germs that can cause illnesses to spread. Don't use anything that is bleach-based, and take care to read the labels to all products before using them in your car.
Be careful when cleaning the console. Your console can have sensitive controls embedded in it, so take care when you are dusting and disinfecting. Don't use ammonia-based products on touchscreens, but simply wipe them with a microfiber cloth and distilled water. Using microfiber cloth instead of paper towels will keep you from leaving lint behind.
Take care of the cupholders, steering wheel, and door panels. Some cupholders are removable, which makes them easy to wash with dishwashing soap. For door panels and the steering wheel, use disinfecting wipes, since these are high-touch areas of the car.
Wipe down the windows. Using a cleaner specifically made to clean glass, wipe the insides of your windows and windshields. A good technique for doing this is to use two microfiber cloths, one with cleaner and the other to wipe the glass clean and dry.
Give your seats some TLC. If you have leather upholstery, wipe the seats with a leather cleaner designed for car interiors. For cloth seats, use upholstery cleaner to remove any stains, working it into the fabric with a scrub brush if necessary. Be careful not to get the seats too wet, or you could end up with unpleasant odors and mold growth.
You care about keeping your car in great shape, and VIP Title Loans cares about getting you a good deal on a loan. We understand that getting the best title loan interest rate is important to you, and we value your dollar. That's why we offer competitive, manageable rates, keeping our fees lower than most other companies. We want to earn your business by saving you money, and with locations in Arlington, Dallas, Garland, Hickory Creek/Denton, and Richardson, we're easy to find. Call us at 214-819-9491 or 682-325-4202, or contact us for more information.