Skip to Content
How to Get Approved for a Title Loan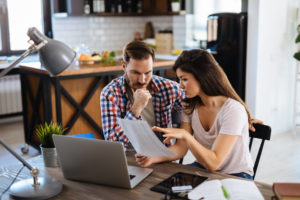 When you need money fast to pay bills, manage debt, or cope with an emergency, consider applying for a title loan. This is a short-term loan that uses your car as collateral against the debt. Title loan companies have much more flexible terms and conditions than traditional banks, which makes this a popular choice for people with bad credit or who are between jobs. Here's what it takes to get approved for a title loan.
Car Ownership
Title loan limits are generally capped at 25 to 50 percent of your car, truck, or motorcycle's cash value, or about $100 to $5,000. To qualify for a title loan, you must own the car outright. In some cases, you may still be approved if you have at least some equity in the car—in other words, you have already paid off a large chunk of your auto loan.
Good Vehicle Value
Your car's value is the primary determining factor in the loan amount you may qualify for. Ideally, the vehicle should be in good or excellent condition. If it's salvaged, too old, or has high mileage, your application may be denied.
Clear Title
You need the original title under your name, which must have no liens against it. This means you can't take out a second title loan if you already have one with another lender. (However, you can pursue a title loan buyout. This is when a new lender with lower interest rates and better terms pays off your first loan for you.)
Auto Insurance
Because car insurance is required by law, expect your lender to ask for proof of insurance before approving your title loan application. You'll need to maintain liability, comprehensive, collision, and mechanical breakdown coverage for the duration of the loan.
Proof of Income
While some states and lenders strictly require you to show proof of income, others are more lenient. You may get approved for a title loan while unemployed if you can show income from another source, such as:
Welfare, disability, or unemployment benefits
Pension or retirement payments
Alimony or investment income
Side projects, such as rideshare driving or selling items online
Paperwork
Bring a valid photo ID that shows you are at least 18 years old, another requirement to get approved for a title loan. If you complete your loan application online, print it out and bring that with you as well.
At VIP Title Loans, we make getting approved for a title loan easy. You don't even have to worry about a credit check! Our goal is to help car owners get approved for a loan when they need it most. We are one of the only car title companies with six convenient locations to choose from in the Dallas-Fort Worth area. You'll have your loan approved, with money in hand, in as little as 30 minutes. Apply with us today to receive the lowest title loan interest rates in the industry!
""