Skip to Content
The Top Advantages of a Texas Car Title Loan From VIP Title Loans
VIP Title Loans knows we are the best in the industry, but unfortunately, that's what everyone says (even when their numbers can't back it up). So, we decided to show you the biggest advantages you get when you choose a car title loan from VIP Title Loans.
Whether you need a car title loan, a title loan buyout, or just more information about how to save money on your current debt, we know we are your best option and have been for years – let us prove it.
VIP Title Loans Had the Lowest APR in the Industry – Just 6%!
We could start off with all the other advantages you get by choosing VIP Title Loans, but we know that money is often the biggest factor in your choice. And we know that we just happen to be the best in this area, too!
VIP Title Loans has the lowest APRs, and second place isn't even close. Did you know that many car title loan companies charge 100%, 200%, even over 300% interest rates? This means you are paying back way more than you need to. That's why our title loan buyouts are so popular – because people learn of how much they could be saving and quickly switch.
Now, remember, APR isn't just interesting, it's actually interest rates plus fees, etc. which means you aren't just getting a low-interest rate, but a low 'total payback' cost. This is a huge perk of getting your title loan through us, after all, why spend more money than you have to?
VIP Title Loans helps you save money on the life of your loan – but for when our low rates aren't enough, or when your financial situation requires more than low APR, we have another advantage for you: longer terms.
Longer Terms – Up to a Year
Some issues can be fixed in 30 days, like a car repair or essay paper – but some cannot. That's why VIP Title Loans thinks it's unfair that most title loan companies make you re-sign and pay more every 30 days (that means the 'term' of their loans is 30 days, or that you are only getting a monthly loan).
A monthly, or '30-day' title loan is basically just a glorified payday loan – and those are terrible!
Having a short term, or a quick 'turn-around' makes it easy for the title loan company to keep piling on fees and time-consuming re-signing consultations. Instead of all that, VIP Title Loans simply made longer terms – up to 12 months! So you can get your finances right.
We don't want to take your car and we don't want to push you further into debt, that's why we offer terms of up to 12 months and the lowest APR in the industry.
Six Convenient Locations
We have more locations than you can shake a stick at – and that's because we want to be convenient for you and close. We are your local option because the team members working in your nearest branch might be your neighbors!
We have six convenient locations, so you don't have to go far, all staffed with helpful, knowledgeable, local staff who want to get you the best title loan for your needs – which just so happens to be ours!
Check out our locations in Arlington, Dallas, Garland, Lewisville, Mid-Cities, or Richardson and find the closest one to you here.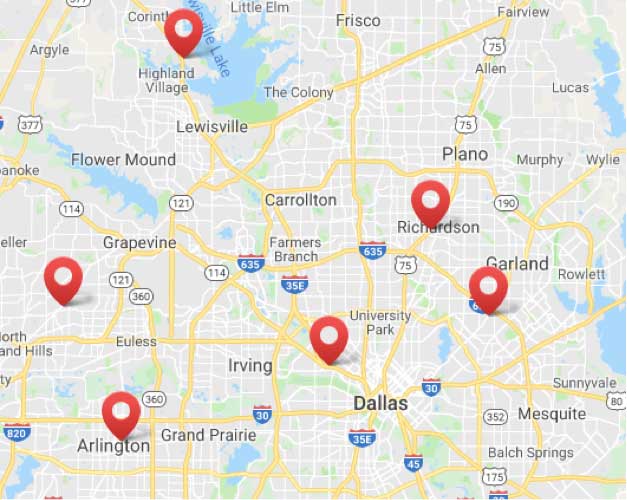 We Make Applying Simple & Easy
You have enough complications in life, so we don't want to make your life even more complex by creating some difficult to understand the application process. Instead, we make it easy, written in plain words, and with friendly and helpful staff who can explain any areas and answer any questions you may have.
Instead of making you jump through a number of hoops, just bring in your vehicle, your title, proof of income, and proof of residence in Texas. If you want a title loan buyout, then bring these 4 items plus your old title loan so we know how much to pay off – and that's it.
You can fill out an application online or fill it out in one of our area locations with the help of our staff – it really is that easy. You can be finished with the cash you need in your pocket in under an hour, sometimes in under half an hour!
Doesn't that sound like a welcome change?
Contact VIP Title Loans to Get All the Advantages of a Texas Car Title Loan Today!
With the lowest APR, longer terms, the best locations, and an easy application process – there's nothing else you could possibly want! And that's why VIP Title Loans offers the most advantages to our customers, and why we're the best in the industry.
Compare us here or visit us today. Contact us here!
""